Divemaster Internship Program
What Is A Divemaster?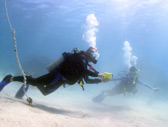 Scuba Diving as a Career
A career in scuba diving is not about getting rich. But it is about many different things, whether you choose to pursue it as a part-time endeavor or a full-time career. Why do people choose a career in diving?
Lifestyle – there are certainly arguments to be made for trading off the stresses of a 9-5 job for the always-changing world of scuba diving, especially in a resort environment like CoCo View, situated on gorgeous Roatan island. You will work hard – it is most definitely a job – but there are many, many benefits.
Passion – if you love diving, there is no better way to feed your passion than to commit to it as a profession. You will always be surrounded by others who share your love for the underwater world, and the best part is – you have the honor of helping them become even better scuba divers!
Environmental Concerns – A career in diving offers opportunities to help protect and conserve our fragile underwater environment.
The Great Outdoors – You haven't lived until you've spent a solid month without your hair ever once drying out… But seriously, it is a privilege to be able to work outdoors, and even more so when your 'office' is shared by sharks, turtles, coral formations and seahorses.
What is a Divemaster?
If you are a certified scuba diver, you have experience with Divemasters. And if you've done a lot of diving, you know they have the potential to make or break your dive experience. Although as a certified diver it is ultimately your responsibility to ensure that you are prepared for and remain safe throughout the dive, a Divemaster can assist with these objectives.
A Divemaster should be familiar with the local dive sites and provide information that will alert divers to potential hazards as well as noteworthy features and creatures. Divemaster internships at Dockside provide all interns with the opportunity to learn all the great scuba sites local to CoCo View.
A Divemaster is a role model, displaying excellent dive skills and attention to detail at all times. As your internship progresses, you will find yourself gaining knowledge and confidence and skills not only in scuba diving, but in customer safety and service as well.
A Divemaster is prepared; not only do they have all the dive gear they need for a successful dive, but they are always looking to ensure the other divers are prepared as well. In addition, they know their boat is equipped with all required and recommended safety equipment, they know where to locate it, and they know how to use it in an emergency. As a Divemaster Intern, safety will be your first priority, always.
A Divemaster can assist with dive courses, and in certain cases, can teach the course. During your internship, you may be called upon to assist with many different scuba courses.
A Divemaster is observant. If a nervous or inexperienced diver may encounter problems or issues on the boat or underwater, a Divemaster observes the potential for trouble and does their best to avoid it by keeping a close eye on the situation and stepping in as needed to assist. As an intern, you can help out with minor issues, and alert the Divemasters to situations best handled by a professional.
A Divemaster has professional level of knowledge about scuba diving and can answer questions from other divers. If they do not know the answer, they have the resources to find out! During your Divemaster Course and Internship, you will be learning everything you ever wanted to know about diving – Physics, Physiology, Dive Theory, etc. You will be happy to share your newfound knowledge.
A Divemaster is friendly and enthusiastic about diving, and willing to chat with the divers about what they saw and where they've been. If you've gotten this far, it's clear you have a love for diving. This duty should not be very difficult!
A Divemaster helps the divers to have fun during the dive and on the boat. Underwater, they help to point out interesting creatures or natural features of the dive site. On the boat, they share in the community of divers and help make the dive experience a special one. Join in the fun and make your divemaster internship a once in a lifetime experience.
Taking the next step – becoming a PADI instructor. Instructor Development courses are being conducted monthly here on Roatan. We'd be happy to assist you in registering for this program once you have completed your divemaster internship.
How do I sign up? Complete our online divemaster internship application today!